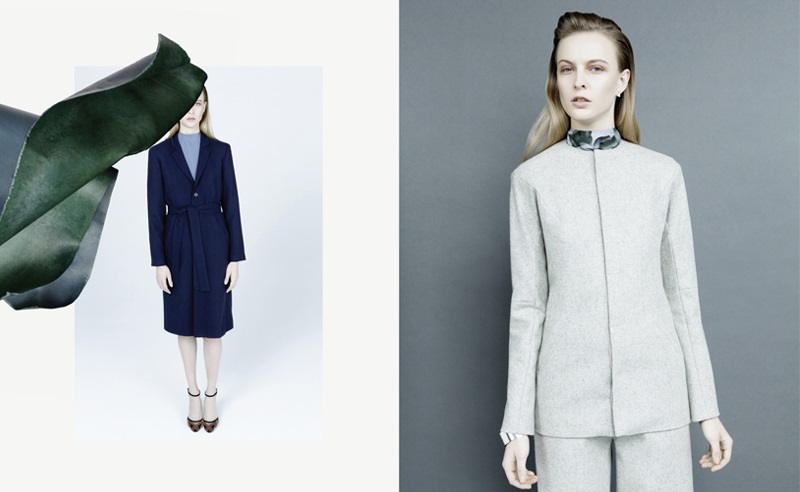 Photo Roman Goebel
This season, Perret Schaad's collection cites the contrasts between a dreamy yet harsh frosted landscape and the warmth and pleasure of a cozy home on a cold winter day.

Perret Schaad uses a precise vocabulary of lines and volumes. Their designs result from research and play with the contours and the geometry of the (human) body. The way the fabrics fall is relevant to the designs as it is translated into fluidity, which contrasts sculptural details. Precise outlines are created by sharp cuts, while drapery enhances hidden spaces. The result is silhouettes that are concrete and sensual, strict and naive.

Perret Schaad uses an autumnal palette. The duo combines woody and urban tones not deciding for a colour range from a city or a natural scape. Urban greys and stormy blues are lightened up with lunatic icy lilac. As the ancient rose and northern beiges evoke associations with a vanishing, soon crystallized nature, the poppy red quotes awakening springtide.

Importance is given to the quality of materials and finishing. The designers love to reinvent each fabric's personality, using them in extremely noble pieces that are yet cool and modern. Glossy silks reflect the light, while soft cashmere knits and rich wool georgettes are used to create an easy elegance.

Constant research of materials and the movement of materials led Perret Schaad to develop prints this season, using patterns inspired by works of art. The use of 3 dimensional elements made of painted paper by artist Peter Jap Lim picks up on the game between blur and structure.

The looks are fresh and charismatic, giving those who wear them a feeling of originality and refined beauty.

Since 2009, the design duo Perret Schaad shows its passion to create clear and original silhouettes using fine materials and traditional handcraft to meet a contemporary design vision. Perret Schaad has developed collections enwrought with playful ambiguity. Its design aesthetic is both strict and poetic, its fabrics both innovative and precious, its colours, soft yet radical. The semi-sculptural silhouettes designed by the Berlin-based duo mix structure and fluidity. The result is a complex vision of beauty, freedom and independence. The Perret Schaad look is discreet, feminine and definitively modern.