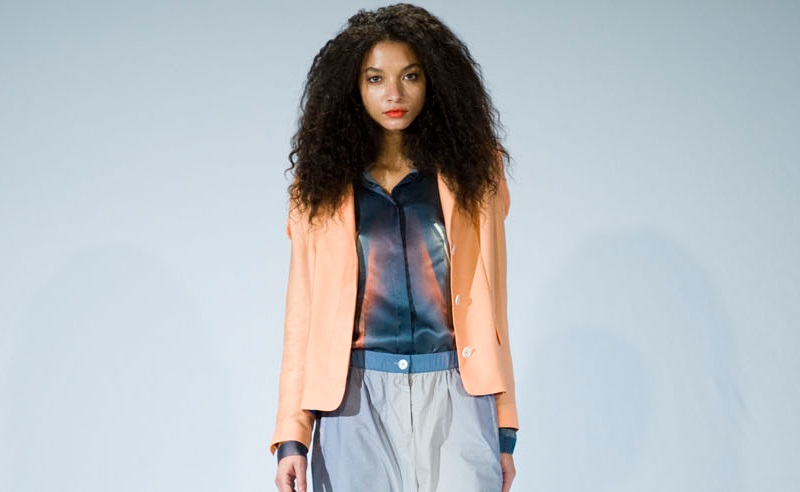 Photo Simon Krebs
Some words have a real meaning only in their language, we espacially think about Saudade which is very difficult to translate as its sense is so strong. It's the same for a German word « Heimat » in which the designer Nino Bollag drew his inspiration for his summer 13 collection.
Heimat could mean : feel at home. But the designer gives it several definitions, of course he includes the idea of feeling at home, but he adds the notion of living a permanent journey, being related with our home, our home town or country or even feel at home in a complete unknown place.
Its a state that is not easy to understand but it's a feeling that everyone had felt at least, once.
For Nino, this feeling is linked to Switzerland, to the entire world and to the thoughts that he tries to convey in his collection through three elements. The designer has captivated moments of sky that for him represents life, home and the feeling of affiliation to a place. He uses his pictures to create original and exclusive prints. To symbolize Switzerland , his nature and his traditions, he has developped with the textile designers Susanne Hissen and Forster Rohner (a 100 year old company), emboideries that represent landscapes and frogs.
All this details will be affixed on minimal shapes, suits, or slim fitted pieces adorned with zips that transform the clothe or change its initial volume.
Nino Bollag makes us travel at the same time as we keep the « being at home » feeling, while preserving the colors shades of the sky, blue tones and black but also the warm colors of the sunset as yellow, red, pink and orange.
Finally, the fabrics as silk , cotton, wool or jersey give the last touch of comfort to this and contemporary collection.